Bowling has become an anchor for amusement and Family Entertainment Centers. Give your business a boost by adding a bowling attraction that is designed to fit your existing space and business model. With multiple themes and options available to create a customized look, mini bowling is fun, social, easy to maintain, enjoyable for all ages—and a great way to grow your party business.
What makes mini bowling attractive?

It's fun
With mini bowling, kids, families, teens, young adults, adults, even seniors can join in have a great time.

It's social
Mini bowling helps people connect with one another, creating lasting memories.

It's Comfortable And Suits All Ages
Mini bowling features a small, easy-to-handle ball, and requires no special shoes or other equipment.

It's Great For Groups And Team-Building
Mini bowling gives you the ability to put up to 10 people together on the same lane—for lots of healthy competition and great fun.

It's Easy To Maintain
QubicaAMF mini bowling solutions need no lane conditioning, special oils, nor a dedicated technician. Plus, they offer state-of-the-art detangling with the TMS String Machine.
QubicaAMF Highway 66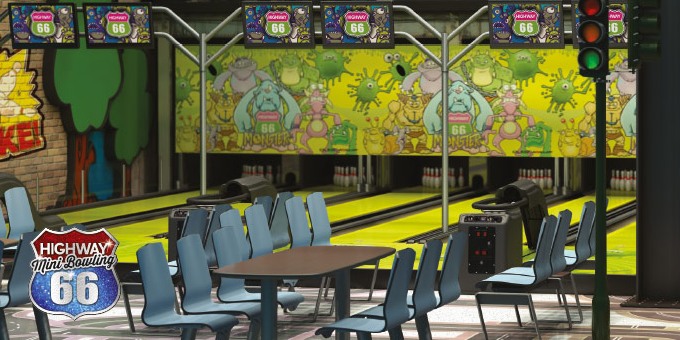 The new Highway66 by QubicaAMF makes the world's best-selling mini bowling even better!
Since the introduction of mini bowling more than 20 years ago, QubicaAMF has more than 3000 Highway66 lanes installed. This makes Highway66 THE market leader when it comes to mini bowling. Highway66 is infused with QubicaAMF's rich heritage of traditional bowling expertise, and the ultimate expression of their superiority in manufacturing and innovation.
Highway66 is now available in several new visually appealing themes that match the look and feel of your center. Themes that will blow your customers away and make sure they keep coming back for more!
With the premium features like High Definition Scoring Graphics, optional Video Maskings, and LED lighting on the cappings, the new Highway66 will surprise your customers positively with an unique on-lane 'experience.
Also, Highway66 can operate with redemption ticket dispensers, and you can have complete control over the maximum number of players per lane, the time per game, or the maximum number of balls.
QubicaAMF Suite Spot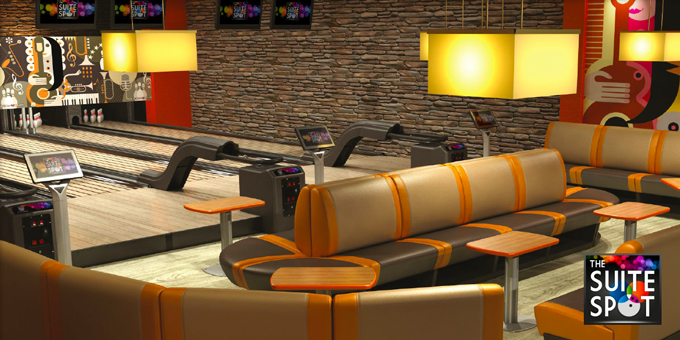 The QubicaAMF Suite Spot concepts combine all the best of bowling with the operational convenience of Highway 66 mini bowling. Suite Spot is designed to satisfy the expectations of your guests of every age.
Suite Spot is equipped with advanced and state-of-the-art BES X Ultimate Scoring System. Having fun is the main reason why many your guests go bowling. Traditional scoring systems are not adaptable to the individual taste of different customer segments. Only BES X offers the widest and most innovative range of on-lane entertainment options, from kids to corporate parties.
Suite Spot is available in various themes and styles. For example, choose from three classic lounge themes that make use of beautiful wood-colored elements and sophisticated materials. Or choose one of seven colorful entertainment themes for an energetic atmosphere.
Specially designed for the entertainment industry, the Harmony Furniture products provide the ultimate atmosphere and comfort for your guests. The ideal mix of style, flexibility and functionality make the perfect addition to the Suite Spot.


Projects in the spotlight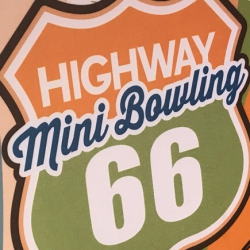 At High Score Waalwijk we have installed 2 lanes of Highway66 mini bowling and the result looks amazing.
See Project ...
This website uses cookies.
You agree that bowltech.eu is using session cookies to execute basic website functionality.
* Since the website cannot operate without using session cookies, this clause cannot be declined.

You agree that bowltech.eu is using first party cookies for gathering information about the number of visits through Google Analytics.

You agree that bowltech.eu is using third party cookies for remotely publishing links to video materials of third party websites (YouTube).
Learn more about our cookies policy here.
Accept Cookies