Bowling has become almost indispensable as an 'anchor' in entertainment and Family Entertainment concepts. Boost your business with the addition of a bowling attraction that can be easily integrated into your existing space and business model. With multiple themes and options available, you can give mini bowling a unique look and feel. Mini Bowling is fun, social, easy to maintain, suitable for all ages and a great way to grow your business.

What makes
Mini Bowling

attractive?

• IT'S FUN, EASY AND FOR ALL AGES
With mini bowling, kids, families, teens, young adults, adults and even seniors can look forward to a great time. Mini bowling uses a small, easy-to-handle ball and no special shoes or other equipment is required.

• GREAT FOR GROUPS AND TEAM BUILDING
Mini bowling offers the possibility to have up to 10 people per lane play together, for an exciting competition and mountains of fun.

• EASY TO MAINTAIN
With QubicaAMF mini bowling, you don't need a lane conditioner, complicated parts or a dedicated technician. And the machine has the unique automatic 'untangle' function, which makes knots a thing of the past.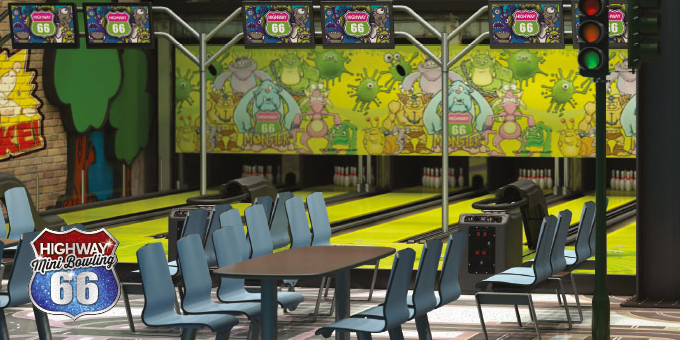 QUBICAAMF HIGHWAY 66
QubicaAMF's Highway66 makes the world's best-selling mini bowling even better! Since the introduction of mini bowling over 20 years ago, QubicaAMF has installed more than 3000 Highway66 lanes worldwide. Highway 66 is infused with QubicaAMF's expertise in traditional bowling and the ultimate expression of their superiority in manufacturing and innovation of bowling products.

Highway 66 is available in several new visually appealing themes to match the look and feel of your facility. Themes to blow your customers away and keep them coming back for more!

With premium features such as High Definition Scoring Graphics, optional Video Maskings and LED lighting on the cappings, the new Highway 66 will positively surprise your customers with an unparalleled on-lane experience. In addition, you can equip Highway 66 with redemption ticket dispensers and have full control over the maximum number of players per lane or game, the time per game, or the maximum number of balls.

Highway66 is easy and quick to install. The premium product quality you have come to expect from QubicaAMF, combined with easy maintenance, ensures that you keep control of the operating costs and that your investment in Highway66 is guaranteed to pay off.
Do you choose
The Suite Spot

or

Highway 66

?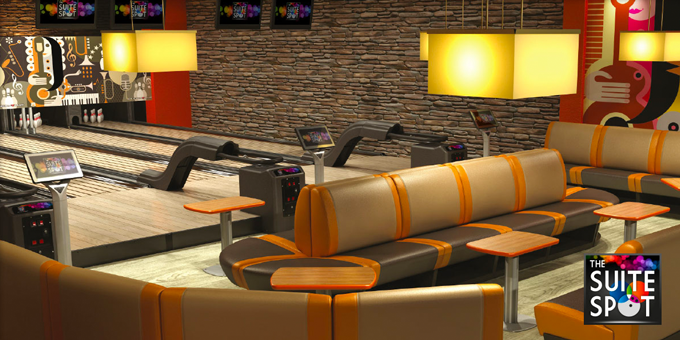 QUBICAAMF SUITE SPOT
The QubicaAMF Suite Spot concepts combine all the goodness of bowling, with the operational convenience of the proven Highway 66 mini bowling concept. Suite Spot is designed to exceed the wildest expectations of your guests, of all ages and backgrounds.

Suite Spot is equipped with the advanced and state-of-the-art BES X Ultimate Scoring System. Having fun is the main reason for your guests to come bowling (more often). Traditional scoring systems cannot be adapted to the individual taste of different customer segments. Only BES X gives you the widest and most innovative range of on-lane entertainment options.

Suite Spot is available in various themes and styles. For example, choose from three classic lounge themes that use beautiful wood-colored elements and refined materials. Or choose one of seven colorful entertainment themes for an energetic look.

Specially designed for the entertainment industry, the included Harmony Furniture products contribute to the ultimate atmosphere and comfort for your guests. An ideal blend of style, flexibility and functionality make it the perfect complement to the Suite Spot.